Stay with us for this one – there is a lot of information here. What we are providing here is more of an adaptable template, and less of an exact recipe. The possibilities are endless, and we will outline several different approaches. The preparation takes a bit longer, but we use this as a make-ahead dish that can be enjoyed for multiple lunches and dinners throughout the week. So the time spent balances out!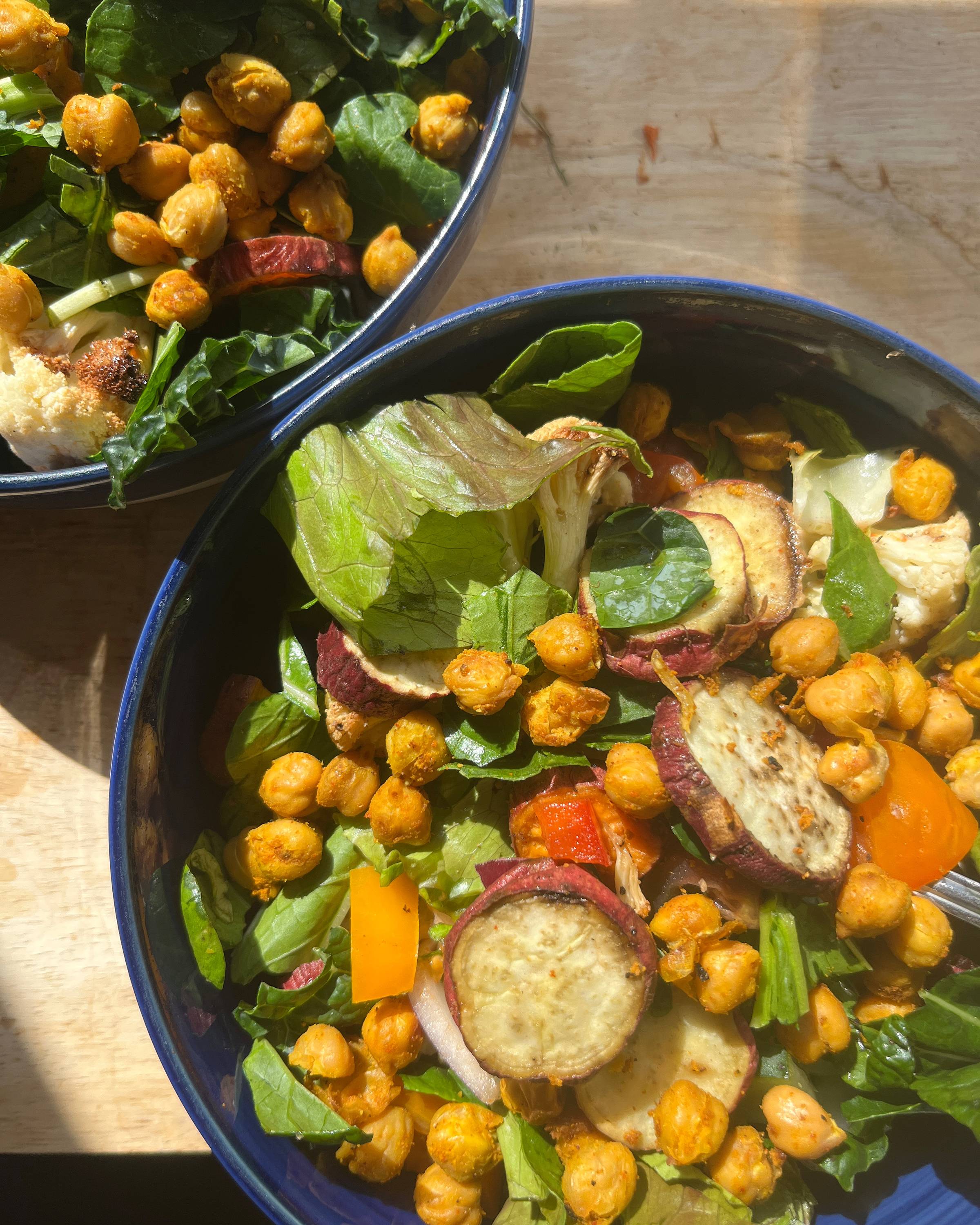 Last year we discovered "Buddha Bowls" after reading Dr. Aviva Romm's book ' Adrenal Thyroid Revolution '. Now we prepare them weekly for our take-to-work lunches. Here's the great thing about Buddha Bowls – they can contain any vegetable, grain, and protein you like and have on hand. They can be prepped ahead of time for the whole week, and they include any flavor profile you like so you never get bored of them (i.e. Greek, Indian, Mexican, Japanese, etc.) They are also nutritionally balanced to energize you mid-day!
Here's Aviva's basic template:
– A prepared grain – for example, wild rice, quinoa, millet, or rice noodles onto which you layer….
– A portion of sauteed or grilled protein (beef, chicken, tofu or red lentil or chickpeas, for example), onto which you layer…
– Lots of veggies! Usually about 2 cups cooked per bowl – either steamed, sautéed, raw or baked (or a combo).
Then you top with:
– A few tablespoons of sauce and…
– A few tablespoons of chopped raw veggies – for example, chopped cilantro or shredded sweet potato.
Plus, if desired:
A few tablespoons of pickled vegetable if it mixes with the meal – for example, sauerkraut or kimchi – on the side.
So imagine – you have prepared all of these elements ahead of time, and stored them in different containers. Use the containers everyday to build your bowl for lunch. Or you can also store already-prepared bowls in their own containers.
Instructions:
1. Cook 1 cup grain or 2 servings Asian rice noodles ahead of time (takes 30 minutes for grains, 10 for rice noodles).
2. Saute your meat of choice or tofu, or have your lentil or other chickpeas prepared ahead of time (takes 10 minutes for meat or tofu, 20 to 30 minutes for chickpea dahl).
3. Steam, bake, or saute your veggies.
4. Mix your sauce.
5. Chop your raw veggies as needed. Layer as pictured above. Serve with the pickled veggies.
6. Bonus – add some salad greens on top if you have them.
---
Here is one template option:
LPF Choi and Salmon Bowl (adapted from Dr. Aviva Romm's Spicy Sushi Bowl)
Prep Time: 35 | Servings: 2
Ingredients:
1 cup quinoa, brown rice, pink rice
2 6-oz filets of salmon
1 1/2 cups chopped bok choi, and/or tatsoi (you can use any green here!)
1/2 cup shiitake mushrooms
1 tbsp sesame oil
1 tbsp chopped scallions or spring onions
2 tbsp chopped avocado
Homemade Miso Sauce (optional)
2 tbsp. sweet white miso
1 tbsp. toasted sesame oil
1 tsp. honey or maple syrup
Instructions:
1. Cook the quinoa, brown rice or pink rice (or two servings of rice noodles) first. It's a good idea to prep this beforehand. Once cooked, place at the bottom of your storage container or bowl.
2. Preheat oven to 425 degrees. Lay salmon on a parchment-lined baking sheet. Spread a layer of your favorite Asian sauce (we like Primal Kitchen No Soy Teriyaki Sauce from Thrive Market ) or homemade miso sauce (see ingredients and simply whisk). Bake in the oven for 15-20 minutes. Add to bowl.
3. Add 1 tbsp sesame oil to saute pan on medium heat. Saute choi/tatsoi and shiitake mushrooms until wilted and fragrant (about 5-8 minutes).
4. Top with scallions and avocado. Optional add-ons are sesame seeds, hot sauce, and Smoked Turnip Kimchi from St. Pete Ferments (you can find them at market right across from our booth).
---
Here are some of our other favorite Buddha Bowl combos to get your ideas flowing:
– Black beans, sweet potatoes, lettuce, red onion, and cilantro with homemade cherry tomato/scallion salsa and rice (pictured right)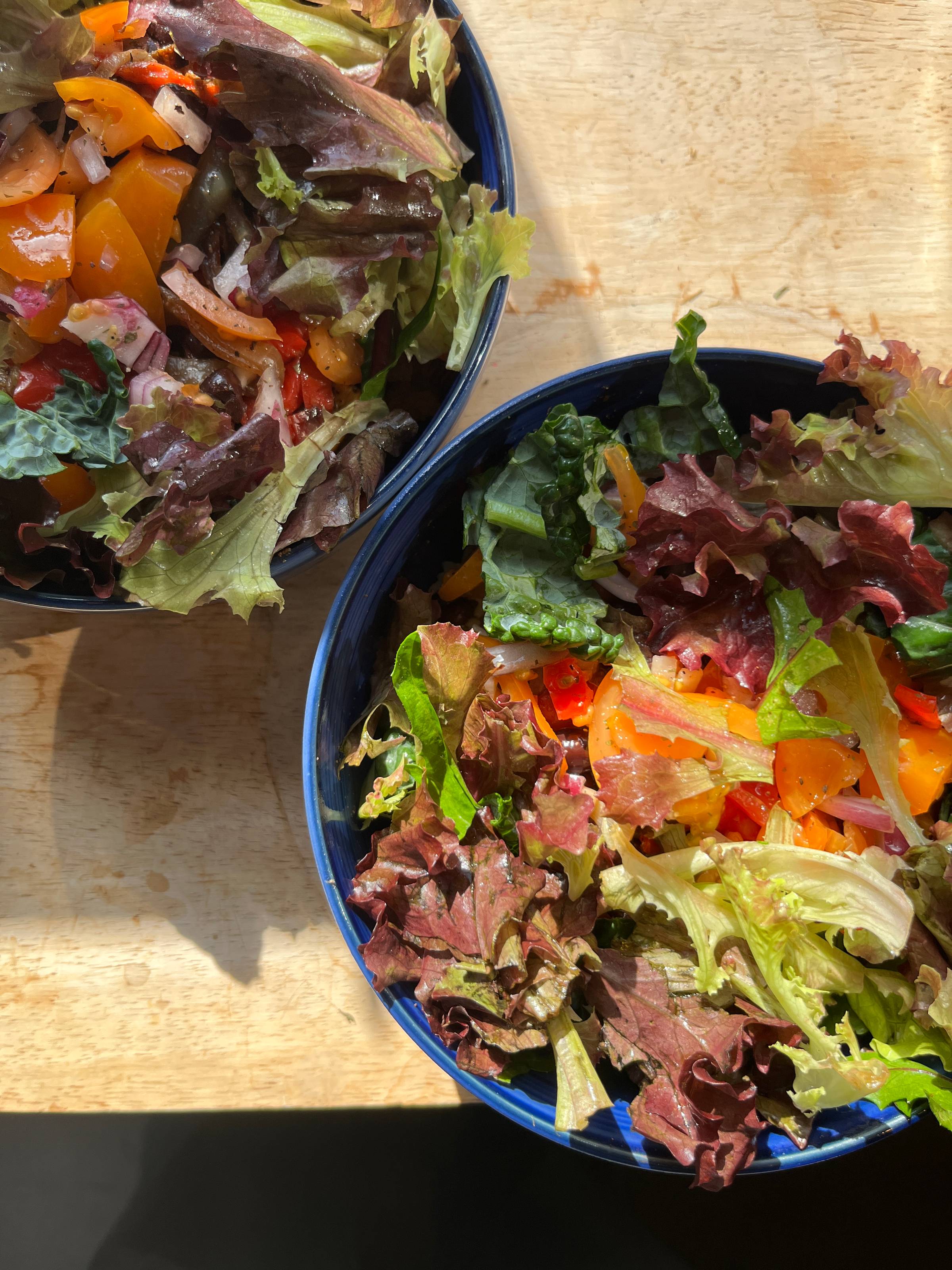 – Roasted chickpeas, sweet potatoes and carrots on a bed of greens with tahini sauce (sauce recipe below) and quinoa
– Roasted chicken with chopped carrots, scallions and greens with soy sauce and soba noodles
This is a great way to use up whatever is in your fridge, eat the rainbow, get your fiber and flavor on! Bonus points for adding a ferment and a raw shredded root which improves your gut microbiome.
Extra tips:
– Make MORE: We love to double or triple these amounts to make lunch for the whole week. We keep the sauce in a separate little container when we meal prep to add when we're ready to eat. We also add 1-2 tbsp of something crunchy like raw sunflower seeds.
– Finding the perfect flavors: We often use The Flavor Bible for flavor combination ideas. This book was introduced to us when we started farming and we've cherished it since. You can look up almost any food and see a list of other foods that combine well with it. The book has been helpful for improvising meals and altering recipes to eat more seasonally.
---
Our favorite tahini sauce:
Ingredients:
1/3 cup tahini
1 medium lemon, juiced
1-2 Tbsp maple syrup (or sub agave – or honey)
1 pinch sea salt (optional)
1 clove garlic (minced // optional)
Water (to thin // ~3-6 Tbsp)
Instructions:
In a medium mixing bowl add tahini, lemon juice, and maple syrup. If adding salt and garlic, add now (optional).
Whisk to combine. Then slowly add water until creamy and pourable. The mixture may seize up and thicken at first, but continue adding water a little at a time and whisking until creamy and smooth.
Taste and adjust flavor as needed, adding more lemon juice for acidity, salt for saltiness, or maple syrup for sweetness.
---
Ok – that's everything. We challenge you to pick a flavor combo that sounds good to you, and give this flexible bowl a try. Let us know how it goes?
Enjoy!
Ellen and Cole
This post contains affiliate links – we earn from qualifying purchases made through the links.