This recipe came from an old friend working at a conservation research station in New York. It was a family recipe of hers and we've been making it for a decade now with our Little Pond cherry tomatoes! This is a super fast recipe for dinner in a pinch. All it requires is having a few basic ingredients on hand.
Prep Time: 5 | Cook Time: 20 | Serves: 4
Ingredients: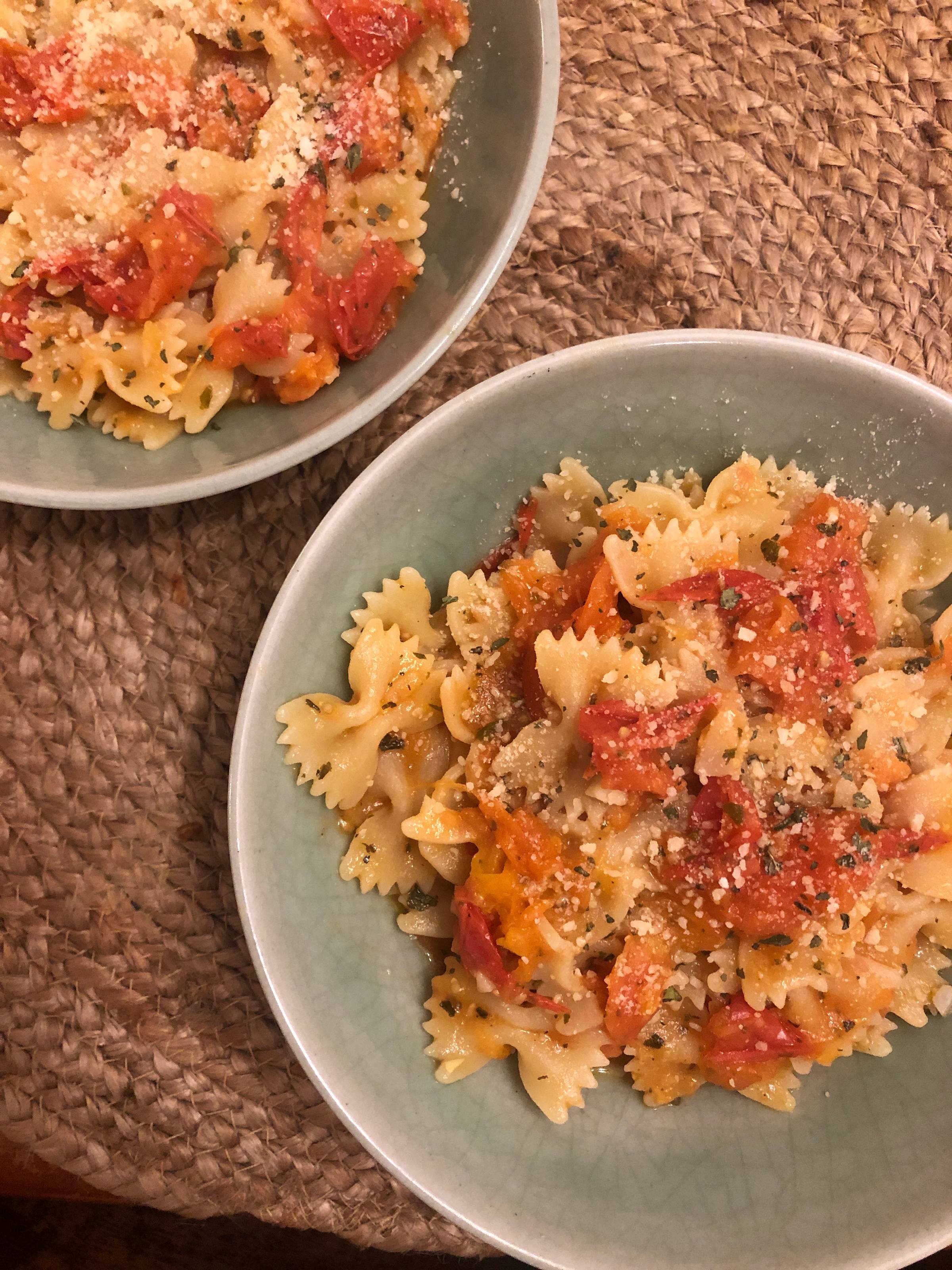 1 lb. pasta
 (we like to use the organic farfalle from Thrive Market ) If you're gluten free – use any type of alternative pasta like chickpea pasta.
1-2 TBS salt
1 TBS olive oil

5-6 cloves of garlic

2 pints of cherry tomatoes

1/8 cup fresh basil, thyme, or oregano chopped (or dried herbs sprinkled)
Instructions:
1. Boil water for pasta and add salt (one of the most game-changing cooking skills we learned from Samin Nosrat in  Salt Fat Acid Heat  is that you should salt your pasta water to the salinity of the ocean.) Once water is boiling, add pasta.
2. While water is boiling, add olive oil to a sauce pan over low/med heat.
3. Smash, then cut garlic cloves into long slices. Add to olive oil.
4. Rinse, then cut cherry tomatoes in half. Add to pan, squeezing each half as you add them. Or Cole likes to just add all the tomatoes to the pan and smash them lightly with a potato masher (you want the structure of the tomato to stay relatively in-tact).
5. Add your herb to the sauce and continue to saute until the tomatoes have softened and the sauce is fragrant.
6. Drain pasta and add sauce. Top with parmesan.
Enjoy!
Ellen and Cole
This post contains affiliate links – we earn from qualifying purchases made through the links.