This recipe is a "template recipe" – it is so easy and adaptable. You can even clean out your fridge and use up what you have on hand, or just use a few veggies you were inspired to bring home from the market.
The idea is – roast two sheet pans of mixed veggies, whatever you have, then blend it all with stock and seasonings for a delicious soup! Sometimes we roast the veggies during dinner the night before, pop them in the fridge and turn them into soup the next night, so it's an easy meal to prep ahead of time. It freezes well too. We like to double the recipe and freeze half for another night.
How we've used this template: The first time we made it, we used a rainbow of vegetables (peppers, carrots, leeks, garlic, poblanos – (pictured below) and when blended, made a delicious and tan-colored soup. The second time we tried all green veggies (kale, cauliflower, sorrel, scallions) and this soup was decidedly green and for hardcore greens-lovers only. The third time we made a tomato, cilantro, scallion, carrot, turmeric soup and it was a red-orange color and very tasty and warming. All of the soups have been yummy, versatile and nourishing.
We're excited to share this with you!
Prep Time: 15 | Cook Time: 40 | Serves: 2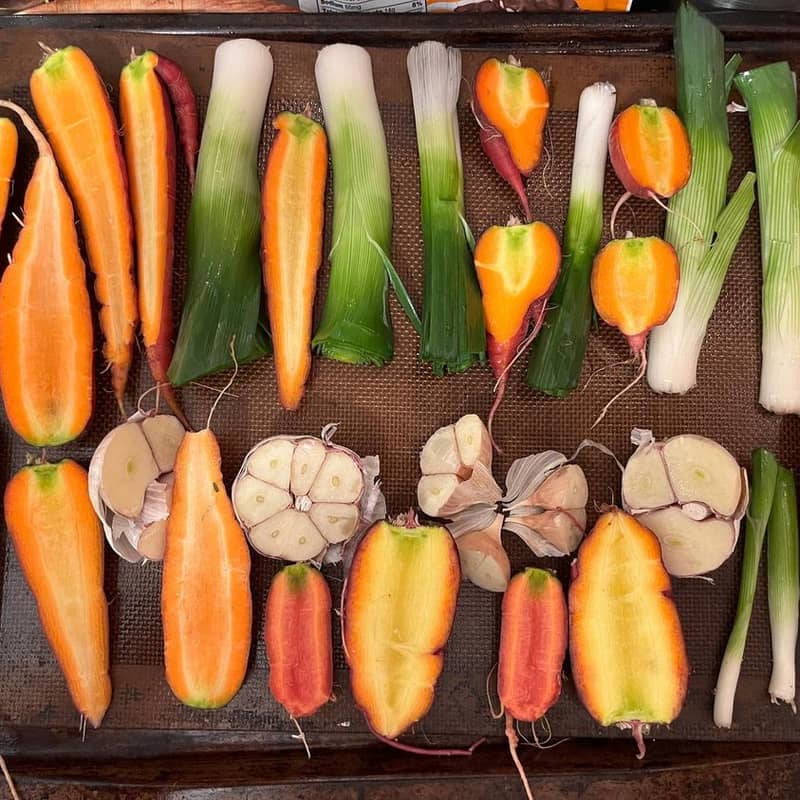 Ingredients:
2 sheet pans of roasted veggies, laid out like in the photo
1 tsp salt
1/4 tsp pepper
1/2 cup canned coconut cream (unsweetened) or water
1 cup broth (optional if you want to thin the soup out a little)
Directions:
1. Roast all the veggies and herbs at 425 for 40 minutes or until the veggies are tender and golden brown. Don't worry too much about cook-time for the different types of veggies, because they will all be blended anyway.
2. Blend veggies and herbs with the rest of the ingredients in your blender.
3. Serve with a fresh baguette if you have one!
Tip: You can dress this soup up with toasted pumpkin seeds, butter, roasted chickpeas, or ground meat.
Our recommended veggie combinations: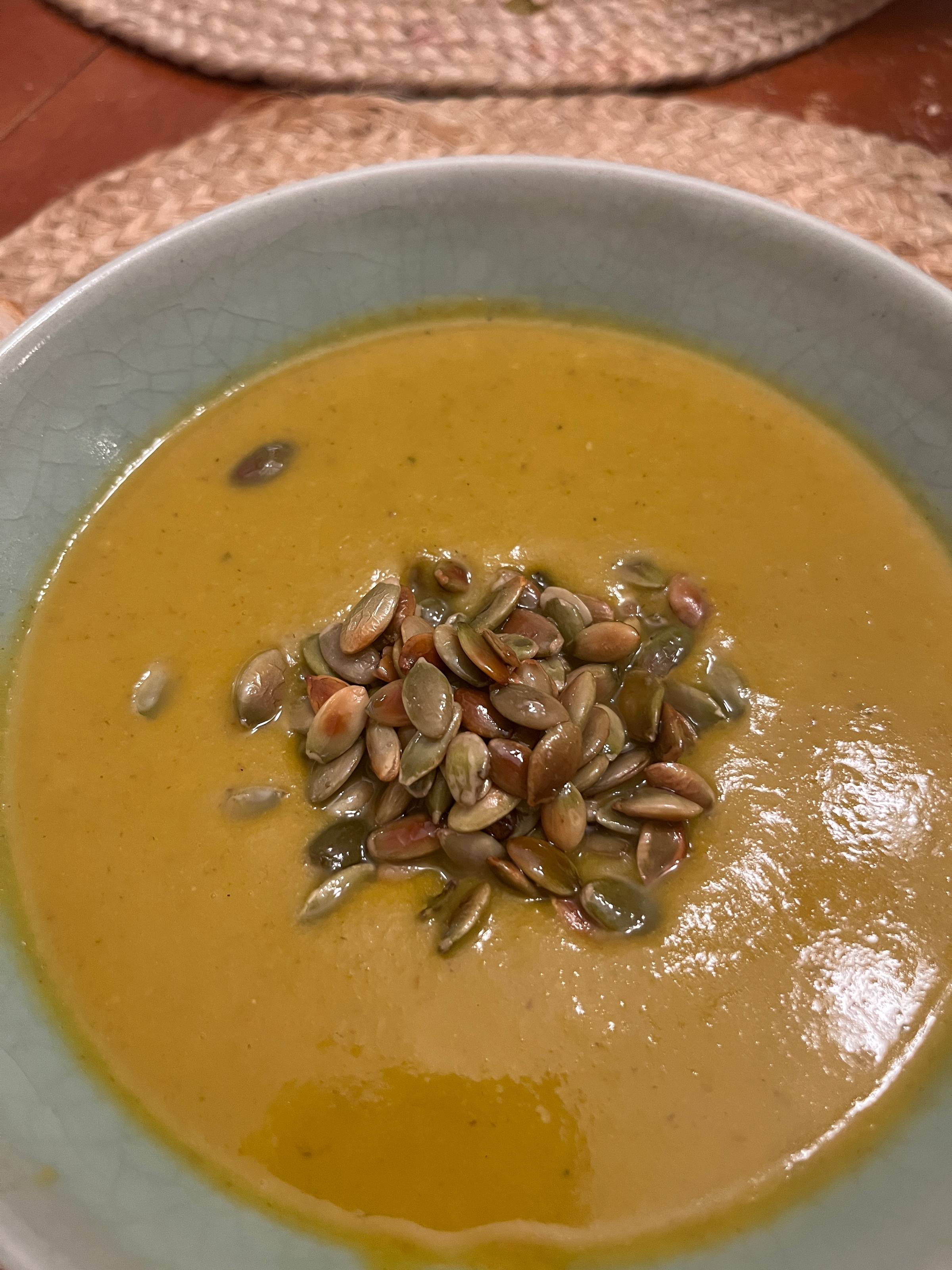 Green cabbage + red sweet peppers + red onions + thyme
Tomato + oregano + thyme
Eggplant + bell peppers + garlic + tomatoes
Eggplant + garlic + onions + parsley
Peppers, carrots, leeks, garlic
Tomato, cilantro, scallion, carrot, turmeric
Finding the perfect flavors: This recipe presents another opportunity to consult The Flavor Bible  for flavor combination ideas. This book was introduced to us when we started farming and we've been using it since then. You can look up almost any food and see a list of other foods that combine well with it. The book has been helpful for improvising meals and altering recipes to eat more seasonally.
Get creative with it!
Modified from original source: HealthyGirl Kitchen
Enjoy! Please let us know if you discover any new winning veggie combinations for this recipe!
See you at the market!
Ellen and Cole
This post contains affiliate links – we earn from qualifying purchases made through the links.