Membership enrollment for next season has begun!
If you're ready to take your love of fresh, local, organic food to the next level, Farm Membership provides your opportunity to level-up!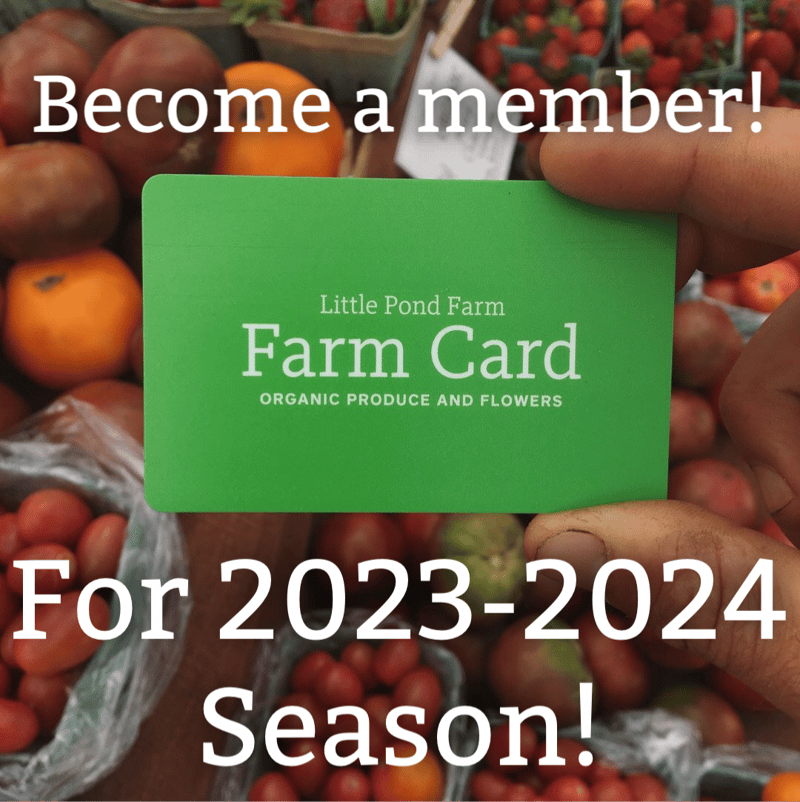 How it works:
Farm Members signup for membership ahead of the new season. Your early commitment earns you 10%-12% bonus funds added to a Farm Card that you can use in the coming season to shop with us at the farmers market. (join before June 1st for the 12% bonus)
When can I join? Right now!
Who will save?
If you plan to attend the market each week and spend $13 or more, a Farm Membership will save you money over the course of the season.
Membership Includes:
· 33 weeks of seasonal eating.
· Pre-loaded Farm Card to spend on all of our products.
· Extra funds to spend with us (12% for early-enrollment, normally 10%)
· Connection to your consumption. Meet and know your farmers.
· Incredibly fresh, nutritious, delicious, certified organic produce, in abundant variety.
· Complete flexibility to shop for whatever you want, whenever you want.
· Support for local organic farming and sustainable business.
· Commitment to yourself to eat local, organic food for one full season. Like a gift to your future self.
Why sign up early?
· Join before June 1st to receive 12% bonus spending credit loaded onto your card (following June 1st, the bonus is 10%).
· Your early commitment helps us to sustain our off-season operation and to appropriately plan our crops for the new season. Our farm members are vital partners, strengthening our farm each season.
· Ensure you reserve your spot before we close enrollment later in the summer.
Read the full details and sign up on our website starting today for early-enrollment pricing.
Thank you for being part of our extended farm family!
If you have any questions about membership, feel free to reply to contact us.
All the best,
Ellen and Cole