First, don't destroy your basil. Don't put it in your fridge! The cold temperature will ruin the leaves. I Instead, store basil on the counter, in a jar of water (like flowers in a vase). Drape a plastic grocery bag over the top of the bunch (like a dome) to keep them super fresh and perky. (Download our veggie storage guide for techniques like this for all the veggies we grow)
Little Pond Farm Basil Varieties: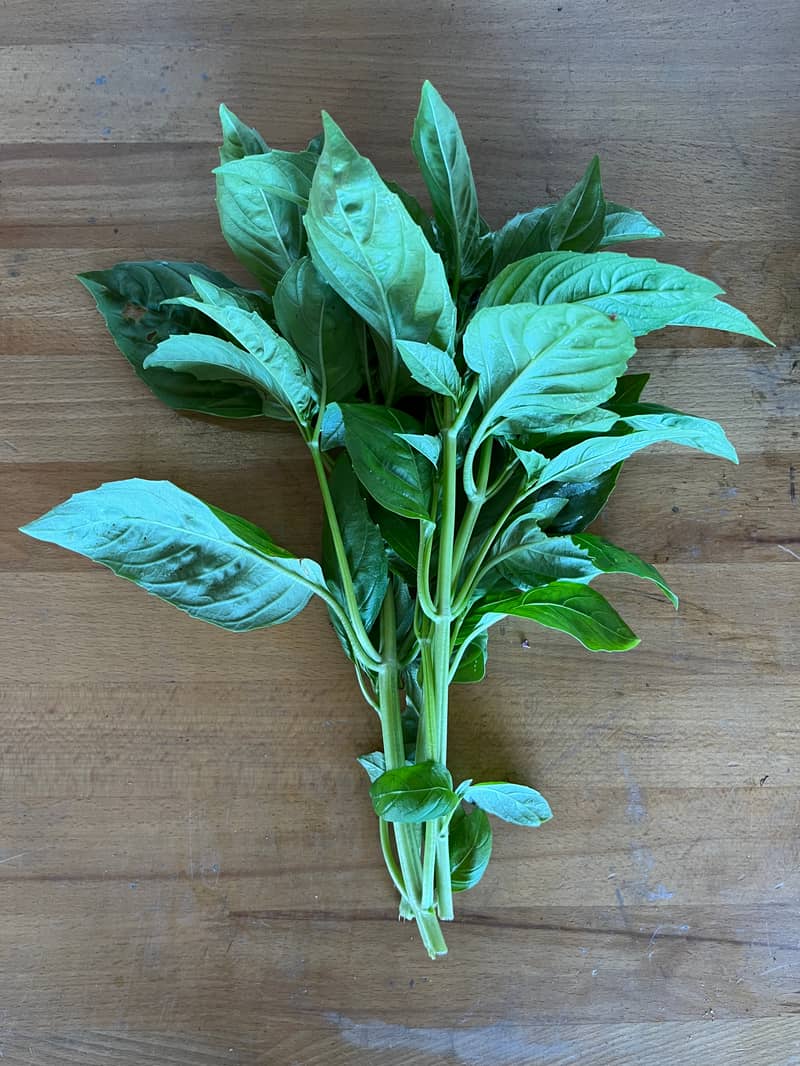 Italian Genovese Basil
Classic basil! Sweet and mildly spicy flavor.
This is the go-to basil for: pesto, sauces, caprese salad pasta, pizza, lasagna and more.
Some less common but delicious uses are: grilled cheese sandwich, infused oil, infused vinegar, lemonade, ice cream, salad dressing.
---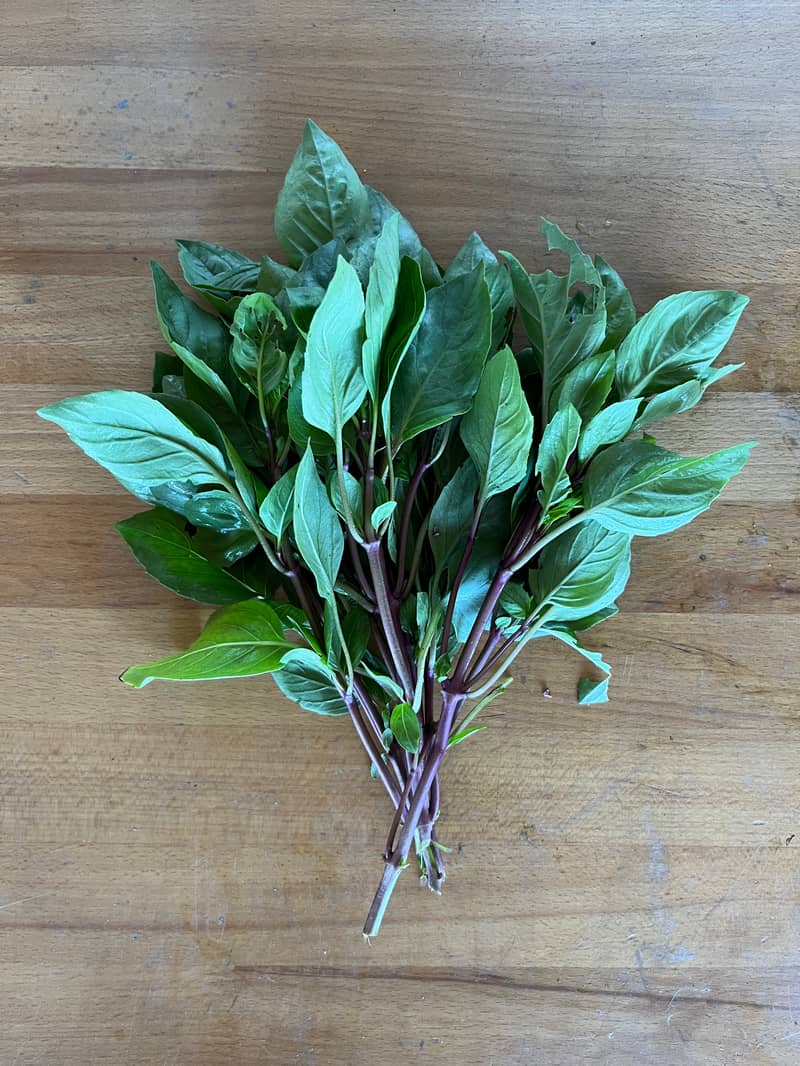 Thai Basil
This variety looks similar to the Italian basil but can be easily distinguished by the stem color – look for the red stems. This basil is slightly sweeter than Italian basil and has an anise flavor.
Utilize Thai basil in: pad thai, curries, stir-fries, spring rolls, fried rice, noodle dishes and soup.
Some less common ideas to try: Infused oil, infused vinegar, Thai basil chicken, basil fried rice, herbal tea, cocktail garnish, salad dressing, marinated tofu
---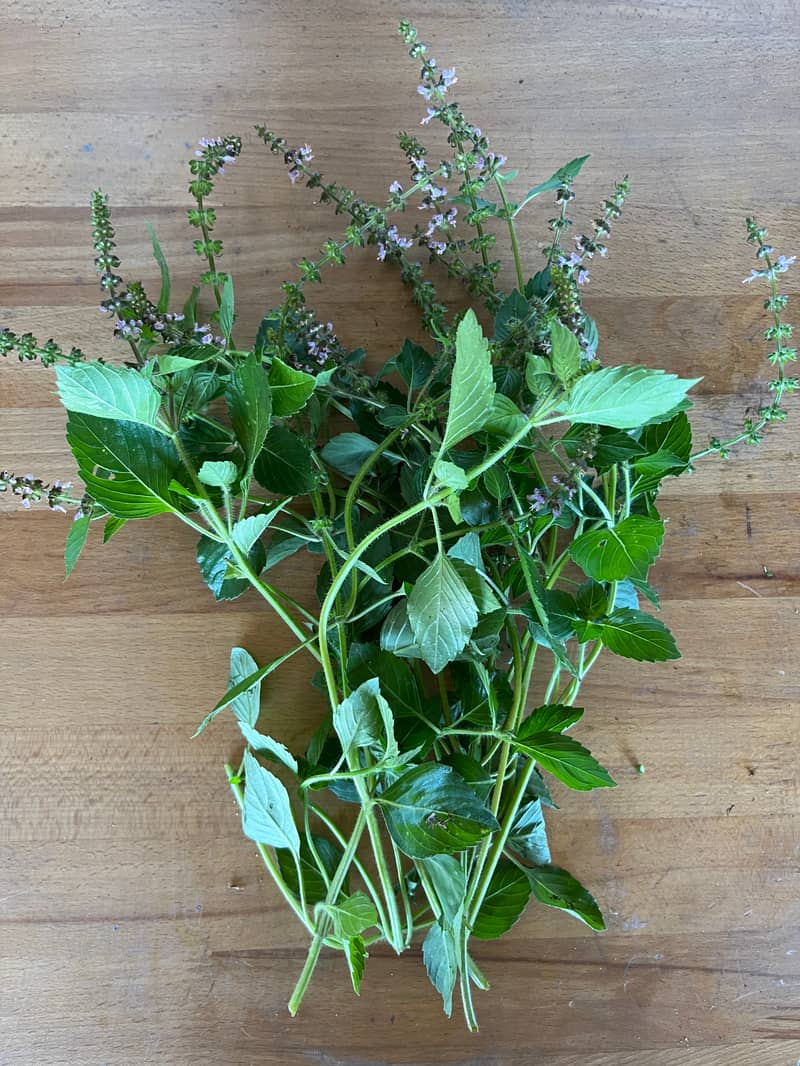 Tulsi Basil
This variety has a wild look and usually you will find this at the market with flowering stems with purple flowers. You can recognize it that way, or by its smaller leaves. Plus, it has a prominent bubblegum scent. This basil is also called holy or sacred basil and is a staple in Indian and Ayurvedic cooking. It is known for its medicinal properties.
Uses: tea (fresh or dried), stir-fries, curry, dal
Fresh ways to try it: Infused oil, infused vinegar, tulsi ginger lemonade, herbal syrup, herbal salve and other remedies.
---
Pro-tip from the farmers: Basil harvest season happens twice each season, first in the fall (October and November) and then again in the springtime (March through May). We encourage basil-lovers to stock up on basil when it is abundant and in-season. The harvest can be fickle, and particularly the Italian and Thai basil harvest can be cut short by weather or other factors out of our control like foliar diseases. So when you notice basil is abundant at market – stock up!
In order to make the most of your basil when you stock up, try preserving it with one of the methods listed in our preservation guide: here. Scroll to the "herb" section for our go-to methods to make your herbs last.